What's new in the shop?
Hello, candle and earth lovers! Happy Earth Day! I know, I know, every day is Earth Day, but today is the official Earth Day, so here's a little history lesson for ya …

Did you know that Earth Day was started through the efforts put forth by Senator Gaylord Nelson of Wisconsin? Senator Nelson arrived in Washington in 1963, just on the heels of the 1962 release of Silent Spring by Rachel Carson. He was hoping to start a nationwide discussion on the still rather inexperienced conservation movement.

After observing the repercussions of the 1969 California Oil Spill, Senator Nelson increased his commitment to raise awareness to our environment.

Although there was support from both sides of the aisle, there were also critics. They ranged from linking Earth Day to a covert celebration of the 100th anniversary of Vladimir Lenin, to a thinly veiled attempt to distract from the ever pressing social issues of that day. Still, an estimated twenty million people took part in festivities on the birth of Earth Day, April 22, 1970 in an effort to promote environmental awareness and to promote protection of our planet.
And that has to do with candles, how ...???
Well, to name a few things ...
Soy candles burn cleaner with minimal soot buildup, and no toxins are released into the air when the wax is melting.

Soy wax comes from soybeans which is a renewable resource.

The wicks I use are made from cotton and braided with thin paper threads - no lead or zinc in my wicks!
When I first started making candles, I obviously had to test them, and that lead to quite the pile up of glass containers. However, clean up is a cinch with soy! Warm soapy water will get the last of that wax out of the container (though, if burned right, there shouldn't be much!), and that leads to an almost brand-new container!

I used to really not look forward to this; it was tedious and before I got my utility sink in my basement, there were jars everywhere in my kitchen. But now that I have a system down, I love recycling my containers and reusing them. Plus, my kitchen smells like a giant candle at the end of the day, but clouds in my coffee will always dominate the room if I've got any of those to recycle!
To everyone that's given me back your exhausted glass candle holders, thank you!!!

Soooo… what's the process? It's as easy as 1,2,3
Into the oven to melt the wax - although soy wax is really easy to work with, I melt it down to liquid form again to get as much out of the jar and as little down the sink as possible.

Once all remaining wax is out of the container, into the sink they go. Warm soapy water and Mrs. Meyers dish soap is all it takes to loosen the labels and make the glass vessels squeaky clean once again!

Next stop is onto the drying rack, courtesy of the prior homeowners ... thanks again, Terry & Kathy! These work so much faster than drying them on towels up in my kitchen. Plus, they can sit here for a few days - er, hours, while they dry and not be in anyone's way.
Check out this stack of recycled containers and lids!
Mason jar tops: 94

8 oz mason jars: 105 (!!!)

4 oz mason jars: 23

Cubes: 31
And some of YOU helped me recycle those!! If you're local, and you're looking to unload your empty Happy Lotus candle containers, I'll always take my glass containers and tops back.
If you can't get the containers to me due to not living locally, you can always clean them and recycle into pots for your plants, holders for pens, lipstick, paperclips, q-tips, cotton swabs, teacher gifts ... the possibilities are endless and Mother Earth will thank you! (though you might not hear her say it) ;)

If you are on the Cape only sometimes and don't mind your containers taking up a little bit of space, bring them to me next time you're on Cape! I'm an equal opportunity recycler!
Now, How About A Sale!!!
Let's celebrate Earth Day with a sale! Today through Friday, April 26th, 2019, take 25% off your order with code EARTHDAY19 at checkout! Happy shopping!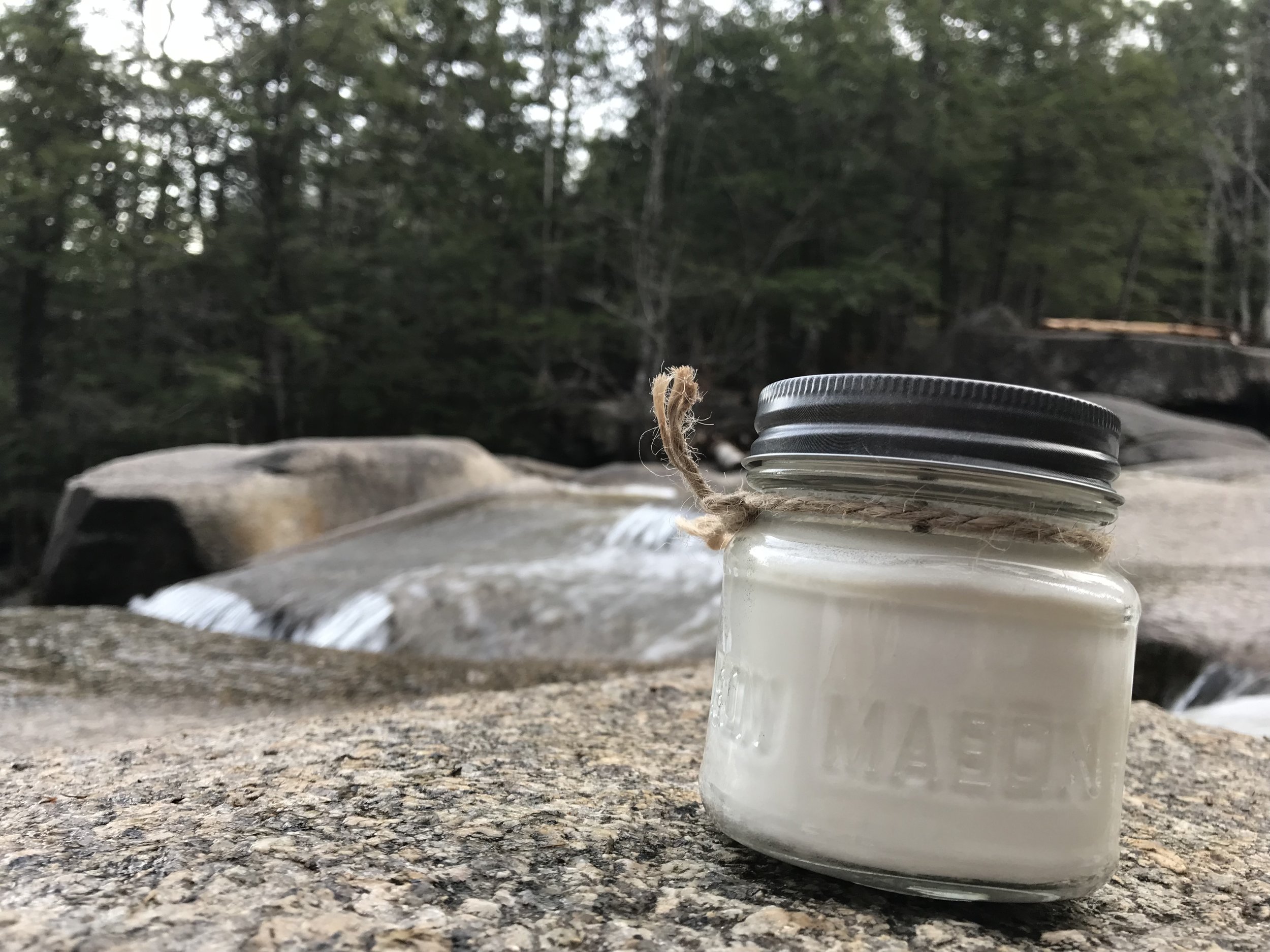 "The environment is where we all meet; where we all have a mutual interest; it is the one thing all of us share."
-Lady Bird Johnson